ACEIR research reports & policy briefs
The publications listed here are the results of collaborations between researchers from different ACEIR country nodes and sometimes in collaboration with researchers from ACEIR partner organisations such as national statistical offices.
Fiscal interventions and welfare in Ghana: A CEQ assessment using Ghana Living Standards Survey (round 7)
Kwadwo Danso-Mensah, Richmond Atta-Ankomah, Robert Darko Osei, Isaac Osei-Akoto
An ACEIR policy brief by researchers from ACEIR Ghana at the Institute of Statistical Social and Economic Research (ISSER), University of Ghana, Legon, October 2023
Governments are a major (or the most important) agent in ensuring that economic growth yields significant welfare gains through improved income distribution and poverty reduction. This is because governments exert enormous control in any economy, particularly through fiscal (tax and spending) policies. The nature of such policy measures can undermine inclusive growth and can directly or indirectly lead to major changes in both short- and long-term welfare outcomes. There is therefore a need to comprehensively investigate the extent to which various governments' spending and taxation instruments independently or together impact on poverty and inequality. This policy brief describes one such study that provides evidence on key factors that promote or limit the redistribution and poverty reduction effect of a government's fiscals. By applying the Commitment to Equity (CEQ) Institute's framework for incidence analyses of government fiscals, this research examines and quantifies the extent to which a range of taxes (both direct and indirect), government subsidies, and social spending affect poverty and inequality in Ghana. Ultimately, the evidence from the analysis can be utilised to ensure that this government's policy decisions and interventions are not only efficient and effective but also prioritise equity across that country's various population segments. Read
---
Inequality Trends and Diagnostics in Kenya 2020
A joint report by the Kenya National Bureau of Statistics (KNBS) in partnership with the Ghana research node of ACEIR based at the School of Economics, University of Nairobi, with support from Agence Française de Developpement and the European Union.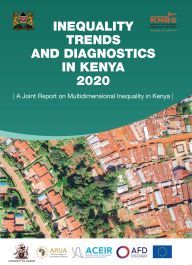 Third in the African inequality trends and diagnostics series, this report presents a comprehensive analysis of multidimensional inequality in Kenya over the period 1994 to 2016 using nationally representative survey data collected and released by the KNBS. The report presents and interprets results from inequality analyses and measurements based on per capita household expenditure, assets, labour market earnings and access to labour market, to education and health, and to other basic services. The household datasets used in the analysis were derived from the 1994 Welfare Monitoring Survey, the Kenya Integrated Household Budget Surveys for 2005/06 and 2015/16, the Labour Force Survey for 1998/99, and the 2009 Kenya Population and Housing Census. In addition, the report uses secondary data from local and international reports to enrich the information derived from sample surveys. Read
---
Inequality Diagnostics for Ghana
An ACEIR report by Richmond Atta-Ankomah, Robert Darko Osei, Isaac Osei-Akoto, Felix Ankomah Asante, Abena D. Oduro, Nkechi Owoo, Monica Lambon-Quayefio & Stephen Afranie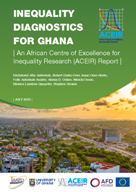 The second country report on inequality trends was published as part of the ACEIR Ghana node partnership between the University of Ghana and the Agence Francaise de Développement with partial funding from the Research Facility on Inequalities, supported by the European Union. The report presents a broad overview of various dimensions of inequality in Ghana over the recent past, largely based on the last three rounds of the Ghana Living Standards Surveys. With the GLSS data, the researchers explored inequality in household consumption expenditure, wage income for individuals in paid employment and household asset index derived from the ownership of household durable assets. The first two waves of the Ghana Socioeconomic Panel Survey were used to reflect some of the basic dynamics in economic and welfare mobility among Ghanaian households while three measures of inequality – the Gini, the Theil L and the Palma indices – were used as a way of complementing one other because of their different strengths and limitations. Read more
---
Inequality Trends in South Africa: A multidimensional diagnostic of inequality
Published by Statistics South Africa, Report No. 03-10-19, November 2019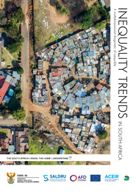 This report is the first country report on inequality trends published jointly as part of the South African ACEIR node partnership between the Southern Africa Labour and Development Research Unit (SALDRU) based in the School of Economics at the University of Cape Town, Statistics South Africa, and the Agence Française de Développement (AFD) with partial funding from the Research Facility on Inequalities, supported by the European Union. The report presents a broad overview of various dimensions of inequality in South Africa over the recent past, using a wide range of data sources. It presents results of inequality measurements for household income and expenditure, assets, earnings, employment, education, health, access to basic services, and social mobility. This multidimensional approach to the profiling of inequality provides stakeholders and policymakers with new insights on the inequality challenges facing South Africa's democracy. Where possible, estimates were disaggregated by population group, sex and/or geography. Thus, the results present evidence on both vertical and horizontal inequality. Read more