How to transform social inequalities through inclusive climate action?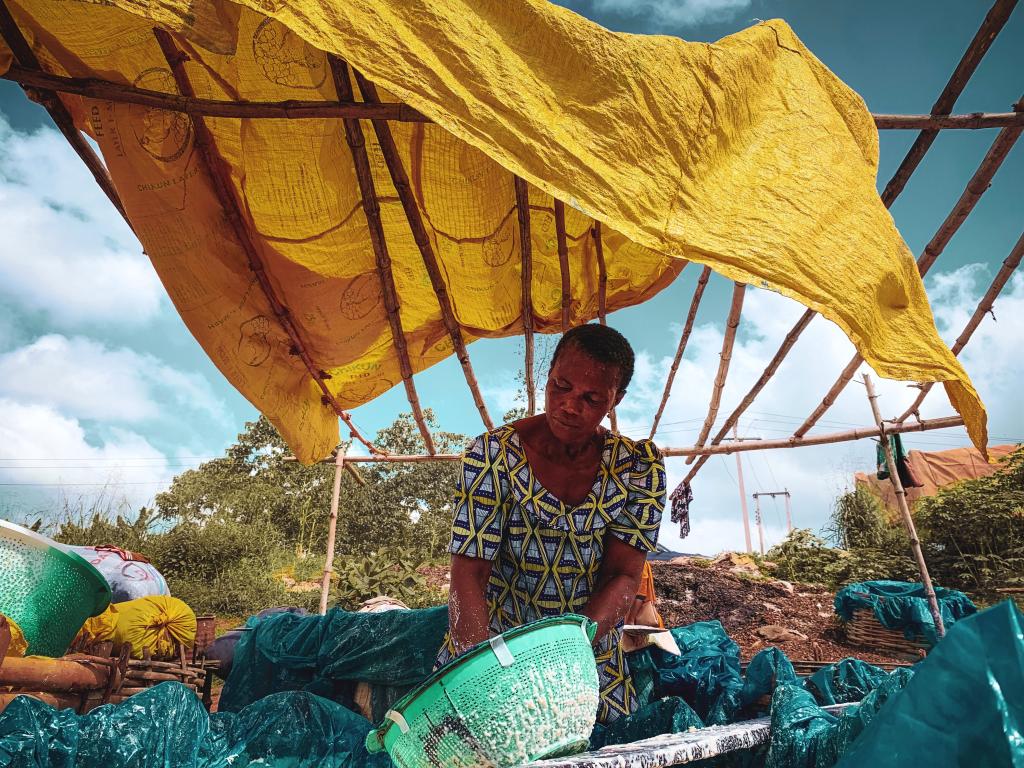 "I have learned over the last couple of days that getting a handle on the intersection between climate change, poverty, and inequality – and a handle that will enable us to speak to policy – it's not easy." 
This is how Prof. Robert D. Osei, the convener of ACEIR's research node at the University of Ghana, Legon, started his reflections at the final plenary session of a packed two-day programme. He was one of six panelists who were asked to speak about learnings and the potential innovations and contributions to transformative climate actions that reduce inequality which emerged out of the gathering.
Close to 100 experts, government officials and agencies, and representatives from multi-country climate change networks, multilateral climate action platforms, and civil society organisations participated in the event.
A "just" transition
At the centre of presentations and discussions was the concept of Justice in Transition.
Specifically, how can climate actions be deliberately targeted to address poverty and inequality, especially in the African context?
This is a key and important question to find answers to. Sub-Saharan Africa – home to some of the most unequal societies in the world – is also the most vulnerable region to climate change. 
The Transforming Social Inequalities Through Inclusive Climate Action (TSITICA) project aims to contribute to this research agenda by inspiring climate actions that also reduce poverty and inequality, based on evidence and insights from the research. In this way, TSITICA would contribute to the Agenda 2030 ambition of leaving no one behind.
Understanding inequalities 
"Good policy requires an understanding beyond averages", another panellist, Dr. Sarah Mander from the University of Manchester, pointed out. "We've seen through the excellent analysis that's been done by TSITICA colleagues and others a real in-depth understanding of where we are now in terms of inequality, vulnerability, spatial distributions, and the different dimensions of inequality."
Another strength of the TSITICA analysis, said Dr. Mander, is ACEIR's inequality diagnostics that involve national statistical offices and provide a longitudinal understanding of how inequality may change by tracking a set of multidimensional indicators: "I really liked the co-creation of that work with policymakers, statisticians; that kind of the research is providing answers to the questions that policymakers need to know."
An important resource for government
Panellist Malebo R. Seeletse from South Africa's Department of Forestry, Fisheries and Environment underlined the importance of such research for government: 
"Information that you have presented is crucial and important to our work; it's going to improve our work … it's not about us coming here just for discussions, but it's also about us taking the knowledge that we've learned here, go back and improve." 
But she also posed a challenge to the researchers: 
"Now the question is: what are we doing about it? What's going to happen to know that, on paper, it said that renewable energy is improving job creation ... Are we just going to shuffle that study and leave it there?" 
Not without challenges
Several panellists spoke of the complexities of such multidisciplinary research, especially if meant to help inform government decision-making. Said Prof. David Gordon, from the University of Bristol:
"Many years ago, my scientific colleagues believed that if they just told the politicians the truth about climate change and explained it to the public in a way that they could understand, then the politicians would do the right thing and solve the problem. Of course, politicians rarely do the right thing and solve problems, unless there is pressure from the public and from civil society." 
ACEIR's Kenya node convener, Prof. Damiano K. Manda, reflected on other challenges to do justice to studies like TSITICA's, such as data availability, and time and funding for data collection and consultation with different role-players, especially at community level. 
Speaking about the role of institutions like governments in climate action, Prof. Manda lamented the slow pace of policymaking while "climate change is moving very fast". 
But, as Prof. Osei pointed out, there were important trade-offs in the quest for a just transition in climate action: 
"There are important trade-offs in respect of economic growth, depending on which development path is modelled … and in respect of financing climate actions that also address poverty and inequality. Understanding these trade-offs and costs is important."
Wealth and climate change resilience
How access to assets and wealth can help mitigate the effects of climate shocks was addressed in several sessions of the symposium, and was also raised in the final plenary. 
"Having assets are crucial to allowing people to develop the resources and the resilience to cope with climate change", explained Prof. Mike Savage, London School of Economics and Political Science. The lack and consequences of which were illustrated at an earlier session by speakers from civil society, such as Faeza Meyer from the African Water Commons Collective; Fiona Vuyokazi Dlangamandla from the Movement for Change and Social Justice; and Roedolf Kay, South African Older Persons' Forum. 
"Nothing about us, without us"
The inclusion and participation of those from communities living with poverty and inequality in climate action conversations were stressed by several of the panellists. Dr Mander reminded the plenary of the importance of "who is representing who" and "nothing about us without us", while Prof. Osei posed the question of "who is around the table when we are having these discussions on a just transition ... are we assuming that we know what is best for 'the poor'?" 
Conversing across sectors and disciplines
The symposium created a platform for sharing research on climate justice and equitable transitions towards sustainable development. Research papers largely covered studies in the Global South: Burundi, India, Indonesia, Ghana, Kenya, Nigeria, and South Africa, while panellists and discussants were drawn from different universities from south and north of the equator. 
Key to these nuanced conversations were speakers from the African Climate Foundation, African Group of Negotiators, Kenya; EU Africa-EU Energy Partnership; Kenya National Bureau of Statistics; the Kenya Forest Service; the Population Reference Bureau; the South African Biodiversity Institute; Statistics South Africa; South Africa's Presidential Climate Commission; and Trade and Industrial Policy Strategies.
Twenty research posters covering India, Ghana, Kenya, and South Africa were presented. Three early career researchers were able to attend through sponsorship from the Population, Inequality and Climate Change Scientific Panel of the International Union for the Scientific Study of Population. 
The TSITICA project is currently wrapping up a set of research papers. 
View the symposium programme or recordings of the symposium's seven plenaries on:
TSITICA  is a collaborative, multi-country and multidisciplinary research project of ACEIR and ARUA-CD in partnership with the universities of Ghana, Nairobi, Cape Town, Bristol, East Anglia and Manchester and the London School of Economics. The support of the African Research Universities Alliance and UK Research and Innovation is gratefully acknowledged.
Article written by Charmaine Smith, ACEIR communication manager, March 2023.